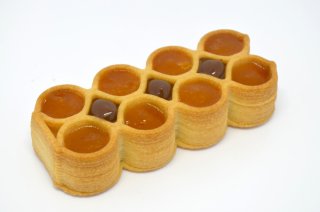 Project
Does printed, personalised nutrition improve military performance?
An understanding of the pros and cons of using personalized nutrition in day-to-day military practice is the outcome of a collaboration between the Digital Food Processing Initiative (DFPI) and the Dutch Ministry of Defence.
Military personnel, like top athletes, must perform optimally; often under arduous conditions. Can nutrition, tailored to individual soldiers, support top performance? An infantryman, for example, will probably burn more calories than a helicopter pilot; a soldier on an exhausting three-day mission far more than an administrative officer at the military base. These soldiers will also have different needs for (micro) nutrients for, amongst others, cognitive performance and muscle recovery. The 'Use case '3D Food Printing for the Dutch Ministry of Defence' Project explored whether personalised nutrition could meet these demands and, if it could, how to incorporate it into military practice.
Personalised snacks
Workshops with marines, pilots, chefs and other military personnel revealed that a personalised snack would be the most promising way forward. They settled on the idea of a cereal bar filled with chocolate, dairy and fruits, with the type of dough and filling adapted to soldiers' individual preferences and demands. Subsequently, dieticians developed - for each type of serviceman or woman - and for common training situations, specific nutritional profiles that could be personalised based on individual characteristics and sensor data. Using advanced modelling software, experts from the DFPI developed a flexible 3D printing system in which they anticipated the requirements of the different nutritional profiles while ensuring tastiness and convenience.
Well-considered nutritional profile
The project has provided practical insights into the ingredient profiles (dough and filling) that each snack should contain in order to meet all criteria, as well as a better understanding of what the underlying 3D printing system should look like. It also highlighted the importance of beginning with a well-considered nutritional profile.
Call for partners
The DFPI is now looking for partners to set up case and pilot studies with the military, as well as in hospital, where the ability to provide personalized nutrition is also very relevant: the next step in developing this use case into an effective system.
Read more about this project: