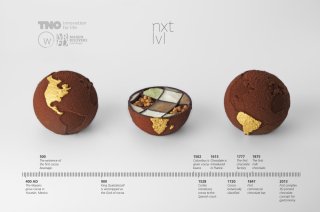 Project
3D printing opens door to Michelin-star chocolate creations
A delicate printed chocolate dessert is the outcome of a collaboration between the Digital Food Processing Initiative, a food designer and a Michelin-star chef. The project was the first in the world to show 3D printing can be a valuable tool in the design of food products.
What beauty arises when you bring together a scientist, a food designer and a chef? was one of the central questions in this project, carried out in 2013. The partners also explored the opportunities and challenges of using Extrusion Printing technology in product development and design.
Three globes, different types of chocolate
Together they created a dessert composed of three globes, printed from different kinds of chocolate. Each chocolate's origin was depicted by highlighting its continent – North America, Africa, or South America - in gold on the outside of the globe. The globes were hand-filled with a range of flavours that again reflected the chocolate's origins: a cream of sweetened corn and Bourbon whiskey for North America, allspice and popcorn for South America, and ras el hanout - with cumin and yogurt - for Africa.
Temperature control
The project showed that Extrusion Printing can be a valuable tool in the creation of delicate chocolate products. Chocolate products need highly precise temperature control before, during and after printing, as this ensures an optimal crystal structure, key to achieving the desired product texture.
3D printing as an alternative to moulding
The project has put 3D printing on the world map as a tool in the creation of food products with unique designs; products that would have been impossible to create with moulding or other mainstream techniques. It has also led to a collaboration with chocolate specialist Mondelēz International, in which the chocolate-printing technique has been optimized to print chocolate shapes without using a traditional moulding process. Mondelēz presented its 3D chocolate printer and the products they could make with them on World Chocolate Day 2019.
News about this project: